Fisher-Price Laugh & Learn Case for iPhone & iPod Touch Devices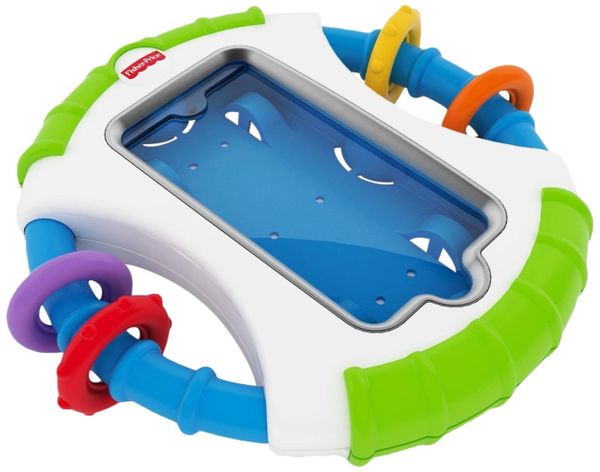 Busy Activities for Baby & Protection for Your Phone
The Laugh & Learn Case is fun all by itself, with busy beads and a mirror to keep baby occupied. When you insert your iPhone or iPod touch into the case, it locks securely inside. Clear film protects the screen from baby's dribbles or sticky fingers. You can even choose to cover the home button to keep baby from pressing buttons or making calls! Additional Usage Hints: You can use anything with a strong, thin edge to open the case; There are two ways to put your phone into the device: home button accessible and not accessible (more detail in the included instruction sheet but it's mom/dad's choice if they want baby to be able to access the home button. ); Fisher Price designed the Fisher-Price apps not to time out. ..knowing that baby may not always give input consistently, and we wouldn't want the screen to time out and have the home button blocked.
Free Apps to Download
Don't just protect your device, make it truly baby-appropriate with free Laugh & Learn apps. Your baby will love learning about animals and counting (Let's Count Animals), parts of the body (Where's Puppy's Nose?) and Animal Sounds, all with fun music, sing-along songs and games. The apps were created following the popular Laugh & Learn approach of bringing learning to life through everyday play. These three apps can be downloaded at no charge from the App Store. App Store is a service mark of Apple Inc.
Developmental Benefits
The Laugh & Learn Case is a great way to foster development of basic skills, helping baby practice eye-hand coordination with fun hands-on activities. There are easy-to-grasp, textured handles and beads to slide and rattle, enhancing fine motor skills. And, because babies love to look at themselves, it features a high-quality mirror that encourages self-awareness and discovery. Adding free Laugh & Learn apps to your device offers additional benefits with learning games and songs.
What's In The Box?
Laugh & Learn Case for iPhone or iPod touch devices.
Product Features:
Device locks securely inside case to protect against baby's dribbles, drool and teething
Clear strip gives you the option to block home button from unwanted call making
Busy beads & mirror add baby-appropriate play
Helps strengthen baby's fine motor skills, builds confidence & inspires curiosity

Compatible with: iPhone, iPhone 3G, iPhone 3GS, iPhone 4, iPod touch 2nd, 3rd & 4th generation Apple devices