Turbospoke® Bicycle Exhaust System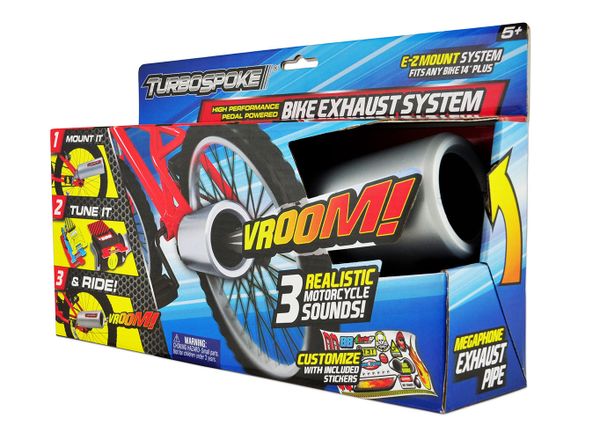 NEW and Improved, the all new Turbospoke® Bicycle Exhaust System is louder, stronger, and more durable.
---


Turbospoke® - BICYCLE EXHAUST SYSTEM.
Make your bike Look and Sound like a real motorbike! Using durable plastic Motocards and a realistic Megaphone Exhaust Pipe, the Bicycle Exhaust System totally transforms any bike.

The all new Exhaust System is Super Durable and creates even greater engine sounds than ever before. The 3 Motocards are 2-stage tunable for up to 6 different sounds. It fits to any bike 14", it's 100% waterproof, doesn't need batteries and makes the most awesome motorcycle sounds as you cycle. But that's not all, it fits to either side of your bike, so you can fit 1 or 2!! Double the sounds, Double the looks, Double the fun!!


Pack Contents:
Megaphone Exhaust Pipe
Card Carrier with Card Lock
3 x Motocards with 2 stage tuning
24 Custom Stickers
Full fitting kit
Step by step instruction sheet
Fitting Video:
https://www.youtube.com/watch?v=b1cW_FS89oM

The new design allows you to fit Turbospokes to either side of your bike - Twin Pipes - double the looks and double the sound. Totally Universal fitment - fits 100% of 14"+ Bikes

3 x 2-Stage Motocards, Each One Makes 2 Different Sounds and a megaphone exhaust pipe that really amplifies the sound as you power down the road

Easy to assemble, the Turbospoke mounts solidly to almost any bike in less than 5 minutes; the new twist card lock allows you to turn the sound on and off or tune the sound with a simple twist. Fits to All Types of Bike (BMX, Racer, Mountain Bike…)

Each set includes the megaphone Exhaust pipe, 3 Waterproof and Super Durable Motocards, Awesome 24 Piece Sticker Pack, universal fitting clamp and all the tools you'll need; for ages 6+. No Electronics – 100% Pedal Power. No Batteries Required
Toyburg is the USA  Distributor for Turbospoke® For bulk or large quantity orders contact samantha@toyburg.com
This item can also be found in store at ACE Hardware in Lawrenceburg, KY.